Annual College Scholarship Award
Florida Garage Door Pros is proud to announce we will be awarding two deserving students a College Scholarship Award in the amount of $500! This scholarship award is to be used toward pursuing a secondary education at any accredited college. We appreciate how hard it is to pay for college and unfortunately so many of our youth miss out on this opportunity due to finances! It's our hope to be able to help our community achieve their dreams!
Just remember to pay it forward when you're ready and able!
Details:
$500 scholarships awarded one time to each winning student
2 students chosen for scholarships per calendar year
Must be a Florida resident
Must be enrolled at an accredited college, university, or trade school
Minimum GPA requirement 3.0
High School Seniors Eligible!
500 Word Essay on the biggest impact of your life, whether that's a person or an event!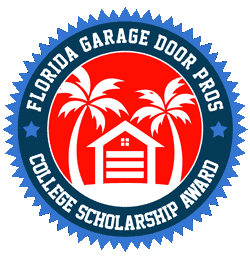 College Scholarship Deadline each year is May 1st.
Scholarships to be awarded no later than May 25th each year.
Winners will be contacted by Florida Garage Door Pros. Please fill out all of the contact information and notify us if any of the information changes prior to May 1st. We will confirm each submission was received.