The Florida Garage Door Pros staff and ownership are very passionate about giving back to our communities. We believe you've invested in us, so we need to pass it along and invest back into you. This page is dedicated to our community involvement, not to brag, but to show how where your money goes when you choose Florida Garage Door Pros to fix your garage door! We're proud of our staff for their ongoing community support and look forward to all of the future plans we have in store!
The Veteran Owned Business Project
a comprehensive, user friendly member network directory of small, medium and large businesses owned by veterans, service disabled veterans (SDVOSBs / DVBEs) active duty military, reservists and military spouses released on Veteran's Day 2008. Learn more at www.veteranownedbusiness.com
Corporate Champion of Wounded Warrior Project
As a veteran owned company, and a company who employs quite a few veterans, this is something our staff is extremely proud of. As a Corporate Champion, Florida Garage Door Pros supports the Wounded Warrior Project in their effort to deliver life changing programs to over 100,000 warriors, their families, and caregivers. To learn more or donate, visit www.woundedwarriorproject.org
Spring Hill NFL Flag Football League Sponsor
Sports have the power to transform athletes and unite communities. The Spring Hill NFL Flag League has been a huge addition to the Spring Hill community in providing a safe, structured environment for youth to learn practical life skills such as teamwork, discipline, and motivation! We are proud to be an annual sponsor of this organization! To learn more, visit https://www.springhillnflflagfootball.com/
Florida Garage Door Pros College Scholarship Award
Florida Garage Door Pros is proud to partner with the Greater Hernando Chamber of Commerce to sponsor an annual student scholarship! Students should contact their school administrators for directions on how to apply!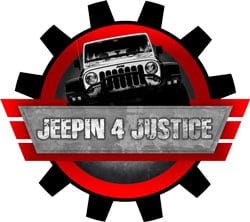 Jeepin' 4 Justice
Florida Garage Door Pros is proud to be one of the sponsors of the Jeepin4Justice event in Pasco County. This charity event helps provide funding to local non-profit charities involved with the law enforcement community! To learn more about this event, and find out when the next event will be held, please check out the Jeepin4Justice website.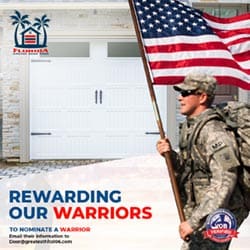 Rewarding Our Warriors
Rewarding Our Warriors is an annual program to show thanks to the Veterans of our community. During the week of Veterans Day, Florida Garage Door Pros will be giving away a FREE garage door, installed by us at no charge, to a different Veteran EVERY DAY! This is just our way of saying Thank You for the sacrifice you made in your life for all of us! To nominate a Veteran in need of a new garage door, email their information to sales@floridagaragedoorpros.com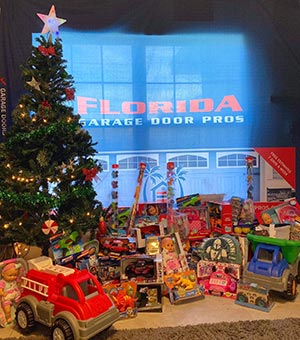 Toys For Tots
Our staff was proud to participate in a Toys For Tots toy drive this past year by offering a discount to any customers that donated a new, unwrapped toy! We had a tremendous turnout and will be expanding this toy drive program going forward to have even greater success!
Stay Tuned for much more to come in the very near future!